2nd UN Ocean Decade Regional Conference &
11th WESTPAC International Marine Science Conference
"Accelerating Ocean Science Solutions for Sustainable Development"
Bangkok, Thailand, 22 – 25 April 2024
Other Useful Information


Bangkok
Bangkok, the capital city of Thailand, is a vibrant and bustling metropolis known for its rich history, diverse culture, and energetic atmosphere. Located on the banks of the Chao Phraya River in central Thailand, Bangkok is a city of contrasts, where ancient temples and palaces stand alongside modern skyscrapers and bustling markets.
One of the most prominent features of Bangkok is its magnificent temples, which are scattered throughout the city. Wat Arun, also known as the Temple of Dawn, with its towering spires, is an iconic landmark along the river. The Grand Palace complex, which includes the stunning Wat Phra Kaew (Temple of the Emerald Buddha), is a must-visit attraction, showcasing exquisite craftsmanship and intricate design. Bangkok is a city that seamlessly blends tradition with modernity, offering visitors a fascinating mix of cultural experiences, vibrant street life, delectable cuisine, and a glimpse into Thailand's rich heritage. It's a city that never sleeps, with something to offer everyone, from history enthusiasts and food lovers to shopaholics.

Weather
In April, Bangkok will mostly experience strong sunshine with temperatures ranging from 27°C to 36°C and about 6.6 rainy days. It is recommended that participants bring sunscreen, a hat, and an umbrella to protect themselves from sunburn.


Currency and ATM
The exchange rate of one US dollar to Thai baht is approximately 33 Baht. Most retailers in Bangkok will only accept Thai baht in cash. Credit and debit cards (VISA, Master Card) are accepted in larger stores, restaurants, and hotels. Foreign currencies can be exchanges at the airports or some sky-train (BTS) stations with exchange booths. Cash in local currency can be withdrawn from ATMs throughout the city, withdrawal fee may be applied.

Electricity and Electric Outlet
Power outlets in Thailand are of types A, B, C, and O. The most common socket types available in most hotels and accommodations are type A and a hybrid variant which is compatible with all four types.
The standard voltage is 220V, and the standard frequency is 50 Hz. The use of appliances designed for 100V or 110V appliances is cautioned without a suitable adaptor/converter due to the risk of burnout.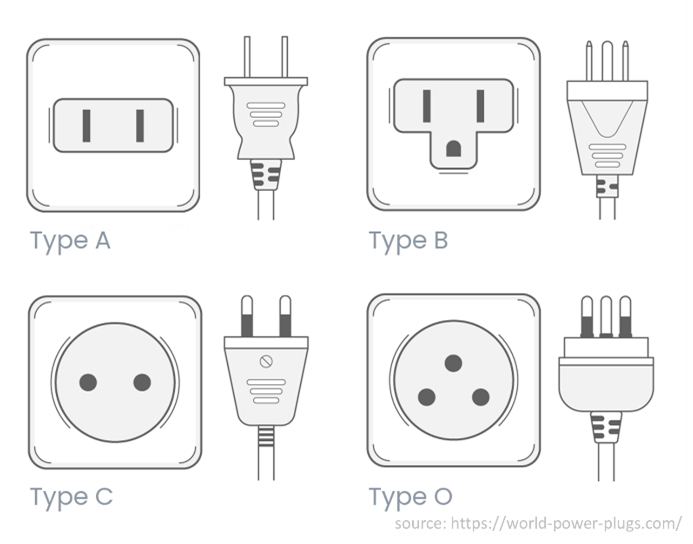 Sponsorship
The conference offers a grand opportunity for ocean-related organizations or companies to display their competencies, products, and services, and the WESTPAC International Scientific Conference welcomes possible sponsorships from the public and private sectors. For more information, please contact the conference secretariat at [email protected] and [email protected].